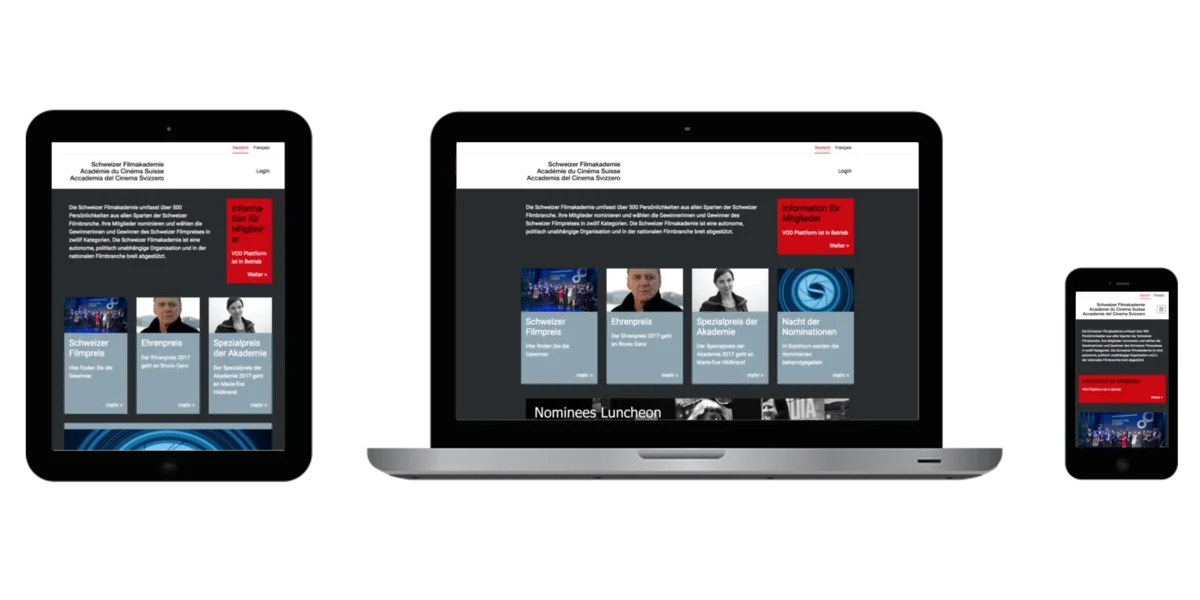 The association "Swiss Film Academy" was seeking a new web presence.
The primary goal of the "Swiss Film Academy" website is to provide information in German and French for members of the association and interested parties and media representatives.
With Primer, the association was able to launch a simple website that presents all relevant information.
Although few daily news are published, it should be possible to create special pages for specific events such as the film award or the Nominees Luncheon. With Primer, these can be further expanded in the future as required, without the need for a budget for further development.
"With Primer we were able to design the pages independently and enter content. Working with Primer was very pleasant. This allowed us to focus on optimizing the content and its presentation."
Filmakademie.ch uses the standard design of the primer basic offer. The colour concept was applied to the brand colours of the "Schweizer Filmakademie".
Collapsible paragraphs are frequently used on filmakademie.ch, for example to present a chronological overview of past events in such a way that visitors can quickly and easily access the contents of the respective years.
For filmakademie.ch only one additional primer feature was needed: an additional language.
Filmakademie.ch is currently available in two languages: German and French. Translations from German to French could be done independently by the association.
If an additional language is added in the future (e.g. Italian), this is easily possible.